Usually buy a lot of ginger at home, because they need to eat every day, but once only a few slices to use, the amount is not large, the rest of the ginger how to preserve it? How do you preserve it? If not properly preserved, ginger can easily dry out, which affects the taste, and is also prone to mold during the rainy season. So how do you preserve ginger that you buy at home?
(1) Tips for preserving fresh ginger
If you buy ginger with sand on it, it is best not to clean it, as ginger with sand lasts longer, and it should be kept in a cool, well-ventilated place away from direct sunlight at a not too high room temperature.
If you buy ginger that has been cleaned or has a slightly damp skin, it is best to keep it in the refrigerator.
For ginger that has been cut, cover the cuts and store in the refrigerator in the freezer, where it can be kept for about 1 month at 10°C or below. . Ginger can be stored in a container of water and then put in the refrigerator with the container for a longer period of time.
Refrigeration and freezing of ginger
Wrap the peeled ginger (no need to wash it) in kitchen paper towels, wrap it in plastic wrap, and place it in the freezer of the refrigerator.
If the ginger is washed, it can be stored longer in a container filled with water so that the water overcomes the ginger and insulates it from air.
You can also use the freezing method by grating the ginger into a powdered form, placing it in a sealed plastic bag, draining off the air, and spreading the ginger out to keep it in the freezer.
You can also use a juicer to squeeze the ginger into juice, pour it into an ice tray, freeze it into ice cubes, and take it anytime.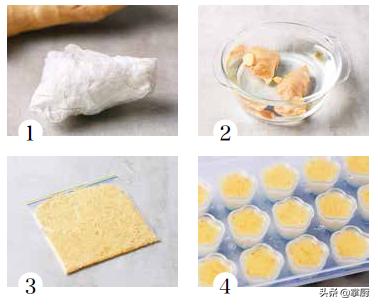 (2) Which is better, raw or cooked?
Ginger is rich in an ingredient called gingerol, which has immune-boosting properties that can help prevent colds and is also effective when consumed in the early stages of a cold.
When ginger is heated, most of the gingerols are converted into gingerol, which is a warming substance suitable for people with cold.
In summary, if you need to boost your immune system, you can eat ginger raw, in specific ways such as pickled, cold, or juiced. It is best to choose young or medium ginger. If you want to warm up the body, then it is best to cook ginger, you can choose medium or old ginger.
○There is a fine way to cut ginger
Fresh ginger can be served thinly sliced, shredded, diced or chopped into small pieces. It is best cut into chunks or thick slices for soups, thinly sliced or shredded for stir-fries and cold mixes, and finely chopped or crushed for fillings. Use ginger juice.
It should be noted that the fiber of ginger is rich in allspice, and if shredded or grated, the allspice is fully released and the flavor is It becomes spicy and the amount needs to be reduced appropriately. In addition, when slicing thinly, follow the direction of the fibers so that it is easier to cut and the cut is even.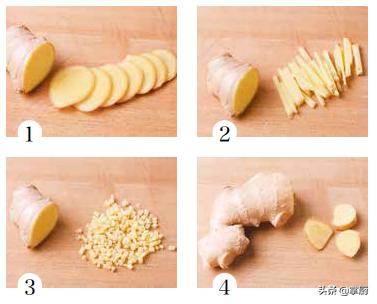 Should you peel ginger?
The skin of ginger is rich in gingerol, which is the active ingredient in ginger, and the skin is rich in essential oils, so it's best to consume it without Peel. If you are concerned about pesticides, use a brush under running water to clean as much as possible.
TIPS.
If you're really worried about eating ginger with the skin on, get a spoon with a thin edge and turn it upside down to gently eliminate the thin layer of ginger skin, scraping off only the surface layer, not all of the skin.